Saving All My Love for You is a single by Whitney Houston from her self-titled debut album. The song was written by Michael Masser & Gerry Goffin with arrangement by Gene Page.
The song is about a love affair with a married man and the singer is "saving all her love" for him. The song was originally a minor hit song for Marilyn McCoo and Billy Davis Jr. on their 1978 album, "Marilyn & Billy" (although Billy's voice wasn't heard on their version.
Whitney's version topped the Billboard Hot 100, making it her first number-one hit on the chart and sold over 2.5 million copies worldwide. Whitney won the 1986 Grammy Award for "Best Female Pop Vocal Performance" and the American Music Award for "Favorite R&B/Soul Video" for the song.
The song became a global hit, topping the charts or making the Top 10 internationally. The song became one of the top 25 best-selling singles of 1985 in the United Kingdom and sold 740,000 copies. It was certified Gold in the United States and the United Kingdom.
Music Video
Edit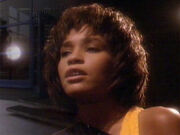 The music video was directed by Stuart Orme and filmed in London. It featured Whitney singing & recording with her married music producer and falling in love with him along the way.
Chart Performance
Edit
Chart (1985)
Peak
position
Austria (03 Austria Top 40)
12
Netherlands (Dutch Top 40)
16
France (SNEP)
11
Germany (Media Control AG)
18
Ireland (IRMA)
1
New Zealand (RIANZ)
5
Norway (VG-lista)
10
Switzerland (Schweizer Hitparade)
5
UK Singles Chart
1
US Billboard Hot 100
1
US Billboard Adult Contemporary
1
US Billboard Hot Black Singles
1